VirtualWealth
NEW VIRTUALWEALTH INVESTING!
Digital advice from VirtualWealth®
Invest your money, not your time.
Digital advice, or robo-advice, from VirtualWealth is a simple and convenient online investing service that provides you with a professionally managed, low-cost portfolio to match your personal financial goals.
Getting started is easy. Tell us a little about yourself and your goals and decide how much you want to invest. VirtualWealth will invest your money in a well-diversified portfolio of exchange-traded funds (ETFs). Your portfolio is continuously monitored and automatically rebalanced, so you don't need to spend time selecting or adjusting your investments.
VirtualWealth provides:
A professionally managed portfolio with a carefully designed asset mix to suit your requirements
Automatic rebalancing to keep your investments on track, no matter what happens in the markets
Friendly support from knowledgeable representatives by email and phone
Get started with VirtualWealth today.
A service you can trust
VirtualWealth is part of Qtrade Financial Group, the team behind Qtrade Investor, one of Canada's top-ranked online brokerages (according to The Globe and Mail, MoneySense and Surviscor), and the asset manager OceanRock Investments Inc., which has been recognized for fund performance and management quality with awards from Morningstar and Fundata Canada. That technology and investing expertise goes into making VirtualWealth a user-friendly, secure and stable service that you can rely on.
To access the VirtualWealth Site,
click here
VirtualWealth is a trade name of Qtrade Securities Inc., Member of the Canadian Investor Protection Fund.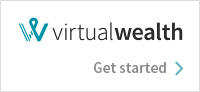 * Securities and securities related financial planning services are offered through Qtrade Advisor. Qtrade Investor and Qtrade Advisor are divisions of Qtrade Securities Inc., Member of the Canadian Investor Protection Fund. Mutual funds and securities related financial planning services are also offered through Qtrade Asset Management Inc., Member MFDA.

Commissions, trailing commissions, management fees and expenses all may be associated with mutual fund investments. Please read the prospectus before investing. Mutual funds are not guaranteed. Their values change frequently and past performance may not be repeated.