News and Updates
Find our latest updates here!
Holiday Hours
Thursday December 24th – branches & call centre close at 3pm
Friday December 25th – branches & call centre are closed
Saturday December 26th – branches & call centre are closed
Monday December 28th – branches & call centre are closed
Thursday December 31st – branches & call centre close at 3pm
Friday January 1st – branches & call centre are closed
Regular business activities resume on Saturday January 2nd
Temporary Walk-In Restrictions at Both Toronto Branches
COVID-19 Update: To protect the health and safety of our members, staff and the community and to help limit the spread of COVID-19, we've temporarily suspended walk in service at our Toronto locations including our King St and Danforth Ave. branches.

The King Street West & Danforth branches will continue to offer appointments & curb-side service but we ask you to call ahead so that we can prepare for your visit.

For the safety of both our staff and our membership, rather than visiting the branch we ask that our members give us a call 1.800.209.7444 or send us an email member_services@comtechfirecu.com and a branch representative will be happy to assist remotely.

We also have 24/7 access through our Mobile Banking App and our Internet Banking site. Contact us to enroll today.

We thank you for your cooperation as we try to provide you with the great service that you are accustomed to, while keeping our communities safe.
Exchange Network Update
Comtech Fire members have access to over 43,000 surcharge-free ATMs in North America with THE EXCHANGE Network in Canada and the Allpoint Network in the US.
Recently, there were changes made to the deployment of ATMs in certain Mac's Milk, Circle K and Couche Tard locations. For your nearest Exchange Network ATM location, download the Exchange Network app. Or visit: theexchangenetwork.ca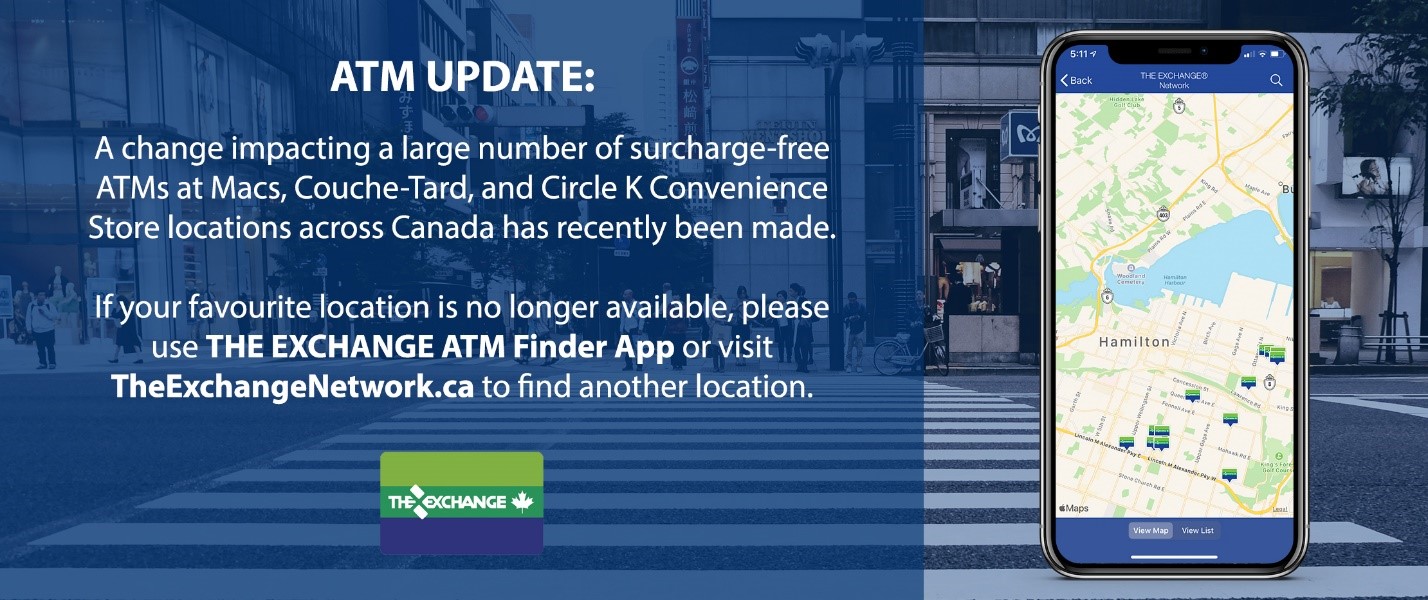 Branch Reopenings
Comtech Fire Credit Union is pleased to announce that all of our branches, excluding the Creekbank (Bell Canada) location will re-open on July 28th, 2020, for normal in branch member service. We will keep members updated on the reopening plans for Creekbank. Creekbank members can also contact our King Street location for any additional requirements they might have.
While we are excited to welcome you back, we have implemented guidelines for our reopening that include important protections for our members and our staff. What is also important is to follow reopening rules established by our cities, municipalities and our Health & Safety Committee. These rules are posted prominently at each branch. The guidelines include the requirement to wear a mask in our branches at all times. Additional safety measures will include hand sanitizer and available gloves to reduce the risk of COVID-19 transmission. There will also be a limit on the number of members admitted to a branch at the same time. We appreciate your patience as we endeavor to keep everyone safe.
Please do not visit if you have signs of COVID-19 or have travelled out of the country recently and are subject to quarantine rules.
You can access our latest COVID updates, including updated pandemic branch hours of operation at comtechfirecu.com.
We look forward to welcoming you back!
CRA Direct Payments Now Available on Member Direct Online Banking
Receiving money from the Canada Revenue Agency (CRA) has never been easier. Whether you're due for a relief payment like the Canada Emergency Response Benefit (CERB), the Canada Emergency Student Benefit (CESB), or the Canada Emergency Wage Subsidy (CEWS) or are waiting on your tax refund, you can set up direct deposit with the CRA to get your money faster.
Simply log in to your Member Direct Online Banking, go to "Account Services", and select "Set Up CRA Direct Deposit" from the menu.
New Ottawa Branch Manager
Effective July 1 2020, Adam Smiley is our new Ottawa Branch Manager. Adam's role as Assistant Branch Manager has provided a solid foundation for him to transition into the Branch Manager role. Well done Adam! We look forward to your leadership at our Bank St. location.