News and Updates
Find our latest updates here!
Important Notice to Members - Credit Union Mastercard Program
On January 1st, 2018, Comtech Fire Credit Union will be introducing an exciting new family of both personal and corporate Visa cards. Our new card offering will provide excellent options to our members, with cards that can specifically suit their individual credit card needs, both for personal use and for business.

Please not that Members may continue to use their existing Comtech Fire Mastecards issued by CUETS Financial beyond January 1st, 2018. If you have any questions regarding your current Mastercard you should contact the number on the back of your credit card.
We will keep you informed and provide greater detail on our new credit card program as we get closer to launch.
2017 RRSP Contribution Deadline Looming
Your RRSP contribution limit for 2017 is 18% of the earned income you reported on your tax return in the previous year, up to a maximum of $26,010. If you have a pension plan, your RRSP contribution limit is reduced.

Eligible RRSP Contributions made after the 2016 deadline (March 1st, 2017) and during the first 60 days of 2018 may be claimed as a deduction from your income for the 2017 taxation year. The deadline for 2017 contributions is March 1st, 2018.

RRSP contributions made after March 1st, 2018, are not eligible for deduction from your 2017 tax return, but would be eligible for deduction in the following taxation year (2018). Contact your branch for assistance in making sure you are well positioned to take advantage of this important tax savings program, including the availability of RRSP loans where appropriate.
Important Announcement/Statements
Beginning in 2018, members who received quarterly paper account statements will now receive semi-annual statements. Full-service chequing account members who receive monthly paper statements will continue to receive their monthly statements at the current cost of $3.00 per month.
Members will receive full statements for their December activity and balances (mailed in January) and for June (mailed in July).
Members can access their activity and balances at any time by utilizing Comtech Fire's Member Direct online banking system, or by adding the Comtech Fire Credit Union mobile app to your mobile device. Members can also request a copy of their statements at any time at a cost of $3.00 per statement. Statements can also be printed at home using Member Direct on line banking.
We appreciate your support as we work towards our environmental protection objectives of reducing the amount of paper and other materials we consume in our day to day operations.
Quarterly and Monthly Statements Now Available
Members please be advised that the quarterly and monthly statements have been loaded online.
Missing Accounts on iPhone Mobile App
We have confirmed several reports where members have upgraded their mobile device to iOS 11.0.2 triggering a bug affecting members with multiple accounts. Upon login and navigation to the "Accounts" page within the iOS app, some accounts render slowly, and may not even appear, when scrolling through their list of accounts. Clicking on the blank space will trigger the accounts to load, and allow navigation to the account details of the hidden account.

This is currently under investigation. We will provide updates as they become available.
June Statements
June statements will be available online as of Monday July 24th, 2017.
Recent Statements
We are aware that some statements issued recently inadvertently show a different Personal Financial Officer (PFO). We would like to reassure you that your PFO has not changed.
Your next statement will accurately reflect your branch contact.
We also wish to confirm that the contact telephone number for Aida Felix PFO is 905-625-6662.
We apologize for any inconvenience this has caused, and thank you for your patience and continuing loyalty to your credit union.
Comtech Fire Credit Union introduces VirtualWealth® robo-advice
Now investors have a new way to save for their financial goals
Toronto, Ontario, March 30th, 2017—Until recently, investors could work with an advisor or they could self-manage their own investments. Now there's another option: robo-advice (or digital advice). In partnership with Qtrade Financial Group, Comtech Fire Credit Union is offering VirtualWealth to its members.
VirtualWealth is a simple, easy-to-use online investing service that matches investors with a tailored portfolio based on their goals, timeline and tolerance for risk. Each portfolio holds a professionally managed, well-diversified mix of low-cost exchange-traded funds, which is automatically rebalanced to the investor's target asset allocation.
"We're proud to offer this innovative service to our members, because it provides them with more choices and more flexibility when it comes to investing, said Comtech Fire's CEO John Mach. "Investors who value a face-to-face relationship can have expert advice from a qualified advisor. And those who want a really simple and convenient online portfolio service can choose VirtualWealth."
"We're excited about introducing a high-quality digital advice service that extends our partners' suite of competitive wealth management solutions and enhances their ability to meet the advice preferences of all their members," said Catherine Wood, Senior VP and Head of Online Brokerage and Digital Advice with Qtrade Financial Group. "VirtualWealth delivers the ease-of-use and personalized approach that investors now expect from digital services."
Getting started with VirtualWealth is quick and easy. Investors answer a set of risk- and goal-based questions, and the service suggests a portfolio designed to deliver the right balance between growth potential and capital protection. The entirely digital (paperless) onboarding and funding process takes just a few minutes to complete.
About Comtech Fire Credit Union
Comtech Fire Credit Union is a full service Credit Union, based in Toronto, Ontario with branches in Ottawa, Kingston, Amherstview, Toronto (3) and Mississauga. With over $500 million in assets, the Credit Union serves over 16,000 members.
About Qtrade Financial Group and VirtualWealth
VirtualWealth capitalizes on the award-winning financial technology capabilities of Qtrade Financial Group. A national, integrated financial services company, Qtrade Financial Group provides selfmanaged brokerage services to individual investors through Qtrade Investor, one of Canada's top ranked online brokers. Qtrade Financial Group also provides full-service brokerage, wealth and investment management platforms and services, custodial services, introducing broker services, insurance solutions, and now, robo-advice, to meet the diverse needs of over 150 financial institutions, as well as their members and clients, across Canada. More information is available at www.qtrade.ca. VirtualWealth is a trade name of Qtrade Securities Inc., Member of the Canadian Investor Protection Fund.
For further information, please contact:
Kevin Connolly
Chief Marketing Officer
416-598-1197, extension 2239
kevin.connolly@comtechfirecu.com

Sean Kelly
Senior Communications Specialist
Qtrade Financial Group
778 328 7583
media@qtrade.ca

CFFF RK Meritorius Service Award 2016
Canadian Fallen Firefighters Foundation President Robert Kirkpatrick Awarded Meritorious Service Medal by Governor General
OTTAWA -- Robert Kirkpatrick, president of the Canadian Fallen Firefighters Foundation and 32-year veteran Captain with the Mississauga Fire & Emergency Services, was awarded the Meritorious Service Medal by His Excellency, The Right Honourable David Johnston, Governor General of Canada.

In a statement from the Governor General of Canada website, "The Meritorious Service Decorations were established to recognize the extraordinary people who make Canada proud. Their acts are often innovative, set an example or model for others to follow, or respond to a particular challenge faced by a community. The best candidates are those who inspire others through their motivation to find solutions to specific and pressing needs or provide an important service to their community or country."

Captain Kirkpatrick spearheaded a national fundraising and awareness campaign to establish the Canadian Firefighters Monument in Lebreton Flats in Ottawa in 2012. His Excellency, The Right Honourable David Johnston, Governor General of Canada officiated the unveiling of Canada's newest monument, recognizing the tireless efforts of the Board of the Canadian Fallen Firefighters Foundation and its president, Robert Kirkpatrick.

Captain Kirkpatrick worked closely with The Ministry of Heritage to provide partial funding for the new monument, a tribute to firefighters across Canada, 80 per cent of whom are volunteers, and in particular, to all those who have died in the line of duty since 1848.

The acclaimed author of several books -- Their Last Alarm, honouring Ontario's firefighters, editions 1 & 2; Reflections of a Proud Heritage: History of the Oakville Fire Department and The Canadian Firefighters Memorial – Captain Kirkpatrick is also the recipient of:
The Ontario Medal for Firefighters Bravery
The 125th Anniversary of the Confederation of Canada Medal
The Canada Fire Service Exemplary Service Medal
The Ontario Fire Services Long Service Medal
The Queen's Golden Jubilee Medal
The Ontario Provincial Police Award for Bravery
The Canadian Association of Fire Chiefs Bravery Award
The Ontario Association of Fire Chiefs Bill William Humanitarian Award
The Toronto Fire Services Credit Union John Rider Award
A two-time recipient of the Mississauga Fire Department's Firefighter of the Year Award
"The Canadian Firefighters Memorial is a symbolic landmark in the heart of the Canada's Capital region where Canadians can now come to reflect and pay tribute to the men and women in the fire service who lost their lives while on duty to help in communities across Canada," said Captain Kirkpatrick. "I am grateful to the long-serving directors of the Canadian Fallen Firefighters Foundation who led this initiative with me, and to the many sponsors and supporters, who have helped me accomplish an important mission for the fire service and citizens of Canada."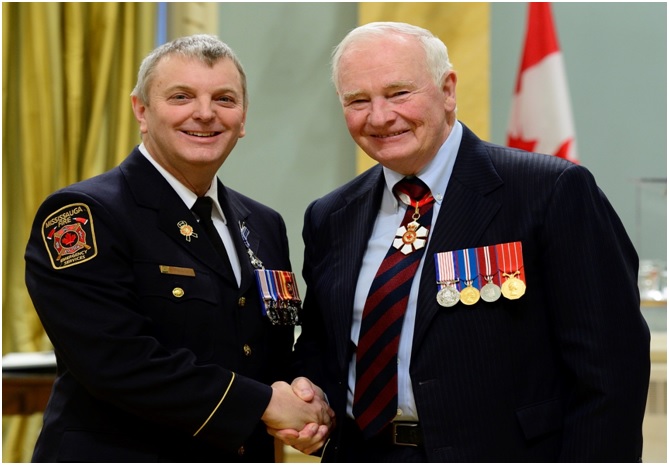 Captain Robert Kirkpatrick received the Meritorious Service Medal on November 25, 2016 from His Excellency, The Right Honourable David Johnston, Governor General of Canada
For more information:
Kathryn Hendrick
Director of Communications
Canadian Fallen Firefighters Foundation
hendrickkathryn@gmail.com
416.277.6281
www.cfff.ca
It's a great time to start saving
Expand/Collapse
Your earnings are guaranteed with our limited-time special GIC rates. They're a perfect option when you're able to lock in a chunk of money over a fixed period of time. Plus, they're RRSP and TFSA eligible, so you'll save even more on taxes.

Don't wait, these special rates are only available for a limited time.
Meet with a Money Mentor!
Ready to invest or not sure where to start? Either way, we invite you to schedule a check-in with a Money Mentor to learn how to make the most of your money.

To get started call 1.800.209.7444 or stop by your local branch today
2016 Canadian Fallen Firefighters Foundation Golf Tournament raises $16,000
Sold-Out Event Brings 4 Year Total Contribution in excess of $61,000!
Toronto, Ontario, August 8, 2016:
Comtech Fire Credit Union announced today that the 2016 Canadian Fallen Firefighters Foundation Golf Tournament raised a total of $16,000, bringing our four year total contribution to the Foundation to over $61,000!
"The Foundation is extremely grateful for the partnership we have with Comtech Fire Credit Union", said Captain Robert Kirkpatrick of Mississauga Fire & Emergency Services, and President of the Canadian Fallen Firefighters Foundation. "The annual golf tournament and yearly ceremony sponsorship is a great example of how much one organization can help the Foundation reach its goals to operate the national firefighters memorial ceremony and provide support programs for the families of fallen firefighters", added Kirkpatrick.
"Four years ago we decided to support a cause that is of fundamental significance to our members", said Kevin Connolly, Chief Marketing Officer of Comtech Fire Credit Union. "The Canadian Fallen Firefighters Foundation through its national support programs does exceptional work with the families of the heroes who have paid the ultimate sacrifice protecting the public, and we are proud to support their work. We look forward to our fifth annual golf classic on May 29th, 2017 at the Markland Wood Golf Club where we will once again welcome our generous sponsors, Professional Fire Fighter Associations and fire fighter friends from across Ontario", added Connolly.
Comtech Fire Credit Union, and its subsidiary Limestone, operates seven branches in the GTA, Kingston area and in Ottawa and serves the financial needs of 20,000 members and their families throughout Ontario. The Credit Union has close to $500 million in total assets.
The Canadian Fallen Firefighters Foundation was created to HONOUR and REMEMBER firefighters who have been killed in the line of duty and to SUPPORT their families. The CFFF is a registered charity and operates by fundraising.

Business content coming in Summer 2017
Expand/Collapse
As one of our new features, we are also excited to offer a Business page dedicated to our commercial members! The content for this page will be accessible in the summer of 2017 and will feature exclusive products and information for commercial members.